Cakecraft Honeycombe Pattern Stencil x 2
SKU:
CC7500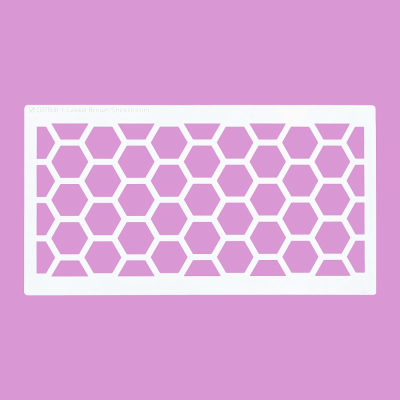 • Suitable for all skill levels
• Food Safe
• Easy to clean - wash with warm soapy water
Suitable for:
• Royal icing
• Airbrushing
• Dusting
• Embossing
Cakecraft Honeycomb Pattern Stencil x 2
Create an almost endless number of designs with this Clever 2 piece stencil.
Use them together or alone for fabulous honeycomb or amazing geometric patterns.
3D effects can be easily achieved by colouring the edge of the pattern
Large pattern 30mm diameter and small pattern 18mm diameter
Stencils
Stencils have a variety of uses in cake decorating and can add stunning simple or intricate designs to any size of cake. Many stencils have several elements to a design allowing them to be used whole, or in part to create a bespoke design
They can be used with many mediums including Royal icing, lustre dusts and airbrush paint making them the perfect addition to the decorating kit of a beginner or professional.
Product Code: CC7500
Product Name: Cakecraft Honeycombe Pattern Stencil x 2
Brand: Cakecraft

Barcode: 5060252025386
Weight: 19 grams
Dimensions: 279mm x 149mm x 1mm

Shipping Weight: 22 grams
Shipping Dimensions: 348mm x 152mm x 1mm