Cakecraft Savannah Stencil
SKU:
CC7600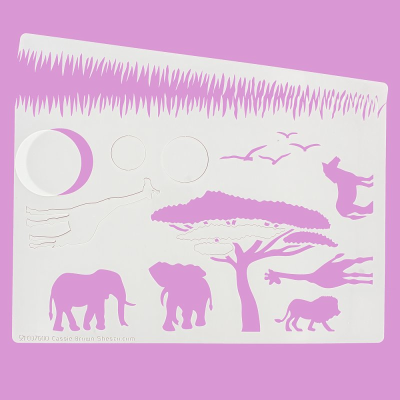 • Suitable for all skill levels
• Food Safe
• Easy to clean - wash with warm soapy water
Suitable for:
• Royal icing
• Airbrushing
• Dusting
• Embossing
Cakecraft Savannah Stencil
Truly one of the most amazing stencils offering so much flexibility.
Keep it colourful for a circus theme, or use black to silhouette the large acacia tree against a sunset for a safari feel.
Use the grass on its own for football, or flower themed cakes.
Stencils
Stencils have a variety of uses in cake decorating and can add stunning simple or intricate designs to any size of cake. Many stencils have several elements to a design allowing them to be used whole, or in part to create a bespoke design
They can be used with many mediums including Royal icing, lustre dusts and airbrush paint making them the perfect addition to the decorating kit of a beginner or professional.
Product Code: CC7600
Product Name: Cakecraft Savannah Stencil
Brand: Cakecraft

Barcode: 5060252025492
Weight: 22 grams
Dimensions: 295mm x 210mm x 1mm

Shipping Weight: 27 grams
Shipping Dimensions: 354mm x 220mm x 1mm