Magic Colours Edible Chocolate Colour - Purple (32g)
Magic Colours Edible Chocolate Colour - Purple (32g)
SKU:
MC11-8080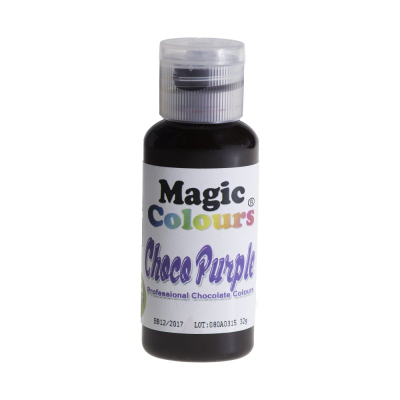 Magic Colours Edible Chocolate Colour - Purple (32g)
• 32g dropper bottle allows for mess-free control of colour
• High concentration pigment
• Oil-based – no need to heat
• Just temper with white chocolate
• No more lumpy or speckled chocolate
• 10 colours to choose from
• Alcohol-free
Edible Chocolate Colour

This range of 10 vibrant colours has been designed specifically for use with chocolate.
It allows you to successfully colour chocolate without affecting texture.
Magic Colours

Magic Colours have produced a range of food colours and flavours for cake baking and decoration.
Great for gumpaste, marzipan, icings, buttercream, chocolate, macaroons, rainbow cakes and much more.
Everything you need in one place.
Magic Colours™ is a subsidiary of the Motek Sugarcraft Group. Established in 2001 and managed by Mrs. L Rosenberg, Motek Sugarcraft is a leading supplier of cake decoration products. Located in the magical hills of Jerusalem, our factory is the home of the popular Magic Colours™ Range of cake decoration products.
Product Code: MC11-8080
Product Name: Magic Colours Edible Chocolate Colour - Purple (32g)
Brand: Magic Colours

Barcode: 7290015718080
Weight: 32 grams
Dimensions: 80mm x 29mm x 22mm

Shipping Weight: 35 grams
Shipping Dimensions: 80mm x 29mm x 22mm