Magic Colours Natural Food Colour - Yellow (32g)
Magic Colours Natural Food Colour - Yellow (32g)
SKU:
MC13-5534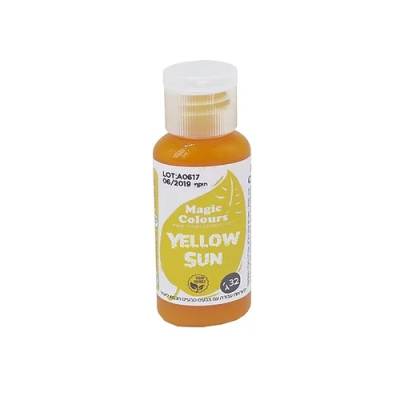 • EC/FDA Approved
• Kosher Parve
• Vegetarian, Vegan
• Fat & Gluten free
• GMO free
Magic Colours Natural Food Colour - Yellow (32g)
These colours are made of 100% natural pigments derived from vegetable or organic origin, thus qualify as vegan as well. these colours are suitable for small quantities of sugarpaste, white chocolate & royal icing.
They produce a gentle pastel shade and are highly recommended for painting on dry sugarpaste. Since these colours are genuinely natural, they may easily be affected by various parameters like high temperature, direct light, the humidity and acidity of the product you want to colour and more, just like any vegetable.
Magic Colours
Magic Colours have produced a range of food colours and flavours for cake baking and decoration.
Great for gum paste, marzipan, icings, buttercream, chocolate, macaroons, rainbow cakes and much more.
Everything you need in one place.
Magic Colours™ is a subsidiary of the Motek Sugarcraft Group. Established in 2001 and managed by Mrs. L Rosenberg, Motek Sugarcraft is a leading supplier of cake decoration products. Located in the magical hills of Jerusalem, our factory is the home of the popular Magic Colours™ Range of cake decoration products.
Product Code: MC13-5534
Product Name: Magic Colours Natural Food Colour - Yellow (32g)
Brand: Magic Colours