Minitool 32617 3 Pce Assorted Grinding Wheels (40mm)
Minitool 32617 3 Pce Assorted Grinding Wheels (40mm)
SKU:
MT320617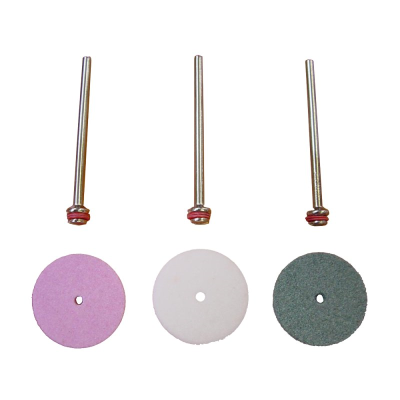 • For use with 4-in-1 Right Angle Tool (MT320750)
• Diameter: 40mm
Minitool 32617 3 Pce Assorted Grinding Wheels (40mm)

These assorted grinding wheels are perfect in use with the 4-in-1 right angle tool (MT320750).

Specifications

• Green = aluminium oxide, fine, for working glass, ceramics, stone and carbide metal
• White = aluminium oxide, medium, for grinding tools and machining hardened materials
• Pink = aluminium oxide, coarse, for coarse grinding of hardened and unhardened materials
• Suitable for devices 32120, 32130, 32140 and 32600

Included in delivery:
• 3 pcs support pins, shaft D 2,35mm
• 3 pcs grinding wheels, D 22mm, s 2,8mm

Minitool

Made in Germany, this high-quality range of mini tools answers all the needs of the keen hobbyist and model maker.
For over 30 years, Minitool 12 volt tools have answered the specific needs of anyone interested in miniature precision. They enjoy a high reputation in Europe, USA and Canada. All tools are 12 volt and therefore small and well balanced, and have ample power for tasks in hand.
Product Code: MT320617
Product Name: Minitool 32617 3 Pce Assorted Grinding Wheels (40mm)
Brand: Minitool

Barcode: 4001510326174
Weight: 12 grams
Dimensions: 165mm x 75mm x 10mm

Shipping Weight: 20 grams
Shipping Dimensions: 165mm x 75mm x 10mm