Minitool 32750 4-in-1 Right Angle Tool
Minitool 32750 4-in-1 Right Angle Tool
SKU:
MT320750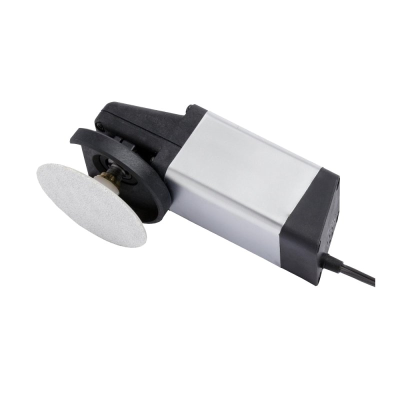 • Must be used with transformer
• combining cutting, drilling, grinding and milling
• For wood, plastics, non-ferrous metals
• Also circuit boards, carbon fibre reinforced plastics
• Twin call bearings for smoother running
• Powerful reduction gear for power at lower speeds
Minitool 32750 4-in-1 Right Angle Tool

This suitable combi-tool is usable for cutting, drilling, grinding and milling.

Specifications

• Compact and powerful design for working with different materials such as wood, non-ferrous metals, plastics, PCB and reinforced plastics
• Smooth running due to double ball bearing
• Powerful gear reduction for more power at low speeds
• Recommended transformer: Minitool 32904

Accessories of Right Angle Tool

32121, 32751, 32752, 32753, 32754, 32755, 32756, 32758, 32759, 32760, 32909, 32910, 32921, 32922

Technical data

• Weight: 330g
• Operating voltage: 12V DC
• Max. power consumption: 110W
• Rotation speed: 400-3300/min

Included in delivery
• 1 hexagonal wrench
• 1 abrasive disk wheel rigid
• sanding paper

Minitool

Made in Germany, this high-quality range of mini tools answers all the needs of the keen hobbyist and model maker.
For over 30 years, Minitool 12 volt tools have answered the specific needs of anyone interested in miniature precision. They enjoy a high reputation in Europe, USA and Canada. All tools are 12 volt and therefore small and well balanced, and have ample power for tasks in hand.
Product Code: MT320750
Product Name: Minitool 32750 4-in-1 Right Angle Tool
Brand: Minitool

Barcode: 4001510327508
Weight: 330 grams
Dimensions: 225mm x 190mm x 80mm

Shipping Weight: 511 grams
Shipping Dimensions: 225mm x 190mm x 80mm