Magic Colours Aroma & Flavour Potion - French Grapes (50ml)
Magic Colours Aroma & Flavour Potion - French Grapes (50ml)
SKU:
MC10-8172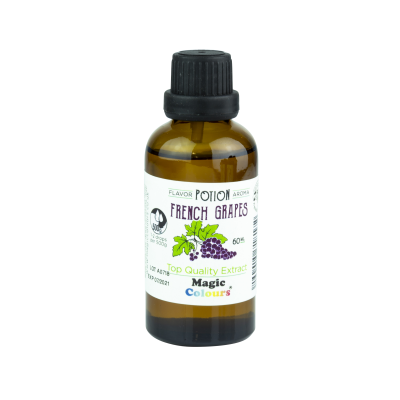 Magic Colours Aroma & Flavour Potion - French Grapes (50ml)
• 50ml glass bottle
• Very high concentration pigment
• 10 flavours to choose from
• Alcohol-free
Aroma & Flavour Potion

Our intoxicating range of concentrated extracts in retro design glass bottles will look as good in your cupboard as they taste in your cakes
Magic Colours

Magic Colours have produced a range of food colours and flavours for cake baking and decoration.
Great for gumpaste, marzipan, icings, buttercream, chocolate, macaroons, rainbow cakes and much more.
Everything you need in one place.
Magic Colours™ is a subsidiary of the Motek Sugarcraft Group. Established in 2001 and managed by Mrs. L Rosenberg, Motek Sugarcraft is a leading supplier of cake decoration products. Located in the magical hills of Jerusalem, our factory is the home of the popular Magic Colours™ Range of cake decoration products.
Product Code: MC10-8172
Product Name: Magic Colours Aroma & Flavour Potion - French Grapes (50ml)
Brand: Magic Colours
Weight: 50 grams
Dimensions: 96mm x 38mm x 38mm

Shipping Weight: 114 grams
Shipping Dimensions: 96mm x 38mm x 38mm