Magic Colours Bling Bling Edible Glitter (Snow White) 10ml
Magic Colours Bling Bling Edible Glitter (Snow White) 10ml
SKU:
MC18-3128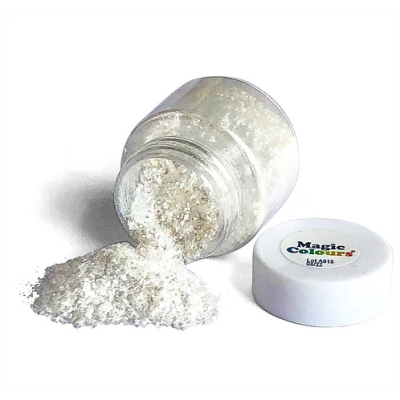 • 100% Edible
• Vegan, No Animal derived ingredients
• Alcohol Free
• Oil Soluble
• Fat Free, Gluten under 20 PPM
Magic Colours Bling Bling Edible Glitter (Snow White) 10ml
The First Original Edible Glitter!
Multipurpose 100% edible metallic glitter for professional cake decoration and confectionery.
Just sprinkle some glitter to chocolates, cakes, pralines, meringues, cookies, macarons and more!
A few specs of the Bling Bling will add that royal shimmery dimension to your creation.
Magic Colours
Magic Colours have produced a range of food colours and flavours for cake baking and decoration.
Great for gumpaste, marzipan, icings, buttercream, chocolate, macaroons, rainbow cakes and much more.
Everything you need in one place.
Magic Colours™ is a subsidiary of the Motek Sugarcraft Group. Established in 2001 and managed by Mrs. L Rosenberg, Motek Sugarcraft is a leading supplier of cake decoration products. Located in the magical hills of Jerusalem, our factory is the home of the popular Magic Colours™ Range of cake decoration products.
Product Code: MC18-3128
Product Name: Magic Colours Bling Bling Edible Glitter (Snow White) 10ml
Brand: Magic Colours