Shesto Ultrasonic Cleaner Solution For Flux Remover and PCB (5 Litre) 
Shesto Ultrasonic Cleaner Solution For Flux Remover and PCB (5 Litre) 
SKU:
UTFLU05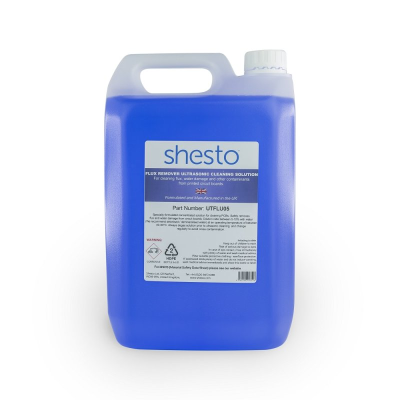 Shesto Ultrasonic Cleaner Solution For Flux Remover and PCB

A concentrated ultrasonic Cleaner fluid designed in the UK to clean flux and safe for use with PCB boards.

Key Features

• A specialist formulation for adding to Ultrasonic baths for removing flux from soldering and even deposits left from water damage
• The Cleaning process safely removes contaminants etc and will not damage, corrode or darken metal components
• Safe on brass, copper, aluminium and other sensitive metals~
• Directions - Concentrate is added to water at a rate of 1 part concentrate to 10 parts of water (we recommend using deionised/demineralised water)
• Operating temperature of the bath should be set between 50 - 80 degrees centigrade
• Always test before use on new applications
• After cleaning rinse all surfaces thoroughly with clean water. The bath should be changed regularly when the solution becomes dirty
• Designed for industrial professional use and hobbyist use - see other listings UTFLU01 - 01, UTFLU05 - 5L and UTFLU25 - 25L
Ultrasonics
Ultrasonics strive to provide specialist and affordable ultrasonic Cleaner equipment, our ultrasonic Cleaner tanks and Flux cleaning fluids can be used for many applications. Applications include Soldering and PCB reworking, computer and phone repairs, Game console repairs, and more.
PLEASE NOTE: This product can only be shipped within the UK. Please contact us for any shipping enquiries before purchase.
Product Code: UTFLU05
Product Name: Shesto Ultrasonic Cleaner Solution For Flux Remover and PCB (5 Litre)
Barcode: 5060252027526
Weight: 5000 grams
Dimensions: 285mm x 180mm x 130mm
Shipping Weight: 5180 grams
Shipping Dimensions: 285mm x 180mm x 130mm