Foredom MP132P Motor Brush Pair
Foredom MP132P Motor Brush Pair
SKU:
FD/MP132P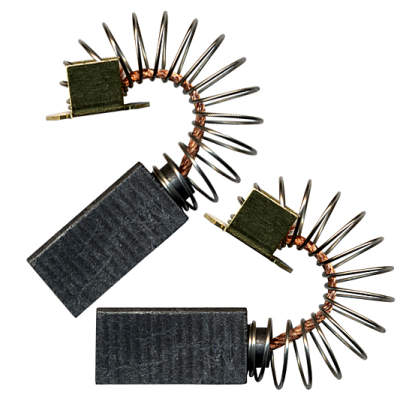 • For 1/6 HP M.SR, M.SRM, and M.SRB motors
• For M.SRH, M.SRMH and M.SRBH heavy duty motors
• All Foredom electric motors are the 2-pole type
Foredom MP132P Motor Brush Pair
Pair of motor brushes for current 1/6 HP M.SR, M.SRM, and M.SRB reversing motors. Also for current M.SRH, M.SRMH and M.SRBH heavy-duty reversing motors (115 volt and 230 volt). This is the current motor that has been in production since Nov. 2005. Earlier models of Series SR motors are 1/8HP and use different brushes (MP2019P). Brushes should be checked for wear periodically. When new they are approximately 5/8" long. Replace them when they have worn to 1/4". Be sure to replace both motor brushes even if one of them is less worn than the other.

More Details About Motor Brushes:
All Foredom electric motors are the 2-pole type, and use one set of brushes, one on each side of the motor case, opposite the shaft end. The brushes are installed in brush holders, which are copper or brass tubes encased in plastic, with shallow plastic screw caps to retain, and provide access to, the brushes. The leads from the motor power cord are connected to the metal brush tubes, from which current flows into the brushes. A brush consists principally of a length of compressed graphite, with carefully controlled characteristics to provide the lowest possible resistance, low friction, and long life. A flexible copper pigtail is embedded in the brush, terminated in a U or disc terminal. The pigtail is surrounded by a coil spring. The free end of the brush is curved, to match the curvature of the commutator. When the brush is inserted in the brush holder and the screw cap is in place, the spring maintains proper brush pressure on the commutator as the brush wears, and the pigtail terminal contacts the inner metal tube to provide a current path to the brush.
Foredom
Foredom is the leading manufacturer of flexible shaft rotary power tools in the world. From its flagship line of flexible shaft machines, to specialized motors, handpieces, attachments, and accessories, Foredom tools set the standard for quality, power and performance. Foredom flex shafts hang from the benches of professional jewellers around the world. While their use in jewellery manufacturing is well known, Foredom flex shafts and other products including compact bench lathes, micro motors, and drill presses are commonly used by machine shop operators, custom fabricators, dental lab technicians, conservators, woodcarvers, artisans and hobbyists.
Product Code: FD/MP132P
Product Name: Foredom MP132P Motor Brush pair
Brand: Foredom

Barcode:
Weight: 7 grams
Dimensions: 35mm x 20mm x 10mm

Shipping Weight: 7 grams
Shipping Dimensions: 35mm x 20mm x 10mm