Foredom SR Hang-Up Motor with Plastic Foot Control
Foredom SR Hang-Up Motor with Plastic Foot Control
SKU:
FD/MSR-FCT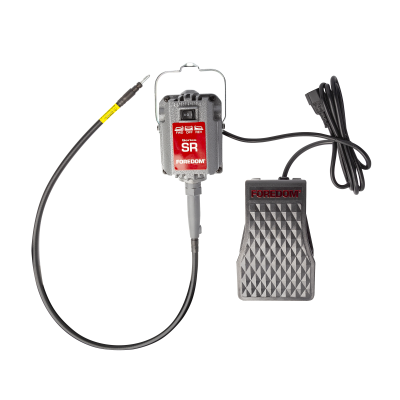 • Most popular hang-up style motor
• Foot operated speed control in plastic housing
• Forward and reverse rotation at speeds up to 18,000 RPM
Foredom Hang-Up Motor with Plastic Foot Control
Here the M.SR Hang-up style Motor, our most popular model, is teamed up with the C.FCT-1 foot operated Speed Control in plastic housing.
CSA listed. Two Year Limited Warranty on Motor and Control.

M.SR Motor Description:
Foredom's 1/6 HP, universal, flexible shaft machine runs in forward and reverse rotation at speeds up to 18,000 RPM. The M.SR combines the most important features our customers expect - power, reversibility, reliability, and versatility - all in one motor. It comes equipped with a motor bale for hanging, and our standard 39" long key-tip shafting for connecting to any of Foredom's interchangeable, quick disconnect handpieces.

C.FCT-1 Speed Control Description:
The reliable C.FCT-1 is Foredoms most popular speed control. It features solid state circuitry in a heavy duty plastic housing with an extra wide footprint, low profile, and non-skid pads on the bottom. It provides smooth control throughout the entire speed range. CSA listed. 7-1/4" long, 4-1/2" wide, 2-1/2" high; ship wt 2 lb/1 kg

Handpieces:
A Handpiece is Required to Operate your Flex Shaft Machine and comes separately. Click here to see our extensive line of handpieces. The Foredom flex shaft system is designed to allow interchangeability of most handpieces.

Sets:
Sets are popular combinations of Motors, Speed Controls and Handpieces. Click to view Sets.

Motor Hangers:
Hang-Up motors require the use of a motor hanger to secure the tool above the work bench. Click to view Motor Hangers.

Additional Motor Details:
The 1/6 hp, ball bearing Series SR has 33% more power than our older 1/8 hp motors, and 66% more than our original 1/10 hp models. The added power helps to reduce stalling or slowing down under normal workloads.
Foredom
Foredom is the leading manufacturer of flexible shaft rotary power tools in the world. From its flagship line of flexible shaft machines, to specialized motors, hand pieces, attachments, and accessories, Foredom tools set the standard for quality, power and performance. Foredom flex shafts hang from the benches of professional jewellers around the world. While their use in jewellery manufacturing is well known, Foredom flex shafts and other products including compact bench lathes, micro motors, and drill presses are commonly used by machine shop operators, custom fabricators, dental lab technicians, conservators, woodcarvers, artisans and hobbyists.
Product Code: FD/MSR-FCT
Product Name: Foredom SRHang-Up Motor with Plastic Foot Control
Brand: Foredom

Barcode:
Weight: 3713 grams
Dimensions: 480mm x 315mm x 115mm

Shipping Weight: 4470 grams
Shipping Dimensions: 480mm x 315mm x 115mm