Jeweltool 6 Pce Needle Rasp Files (140mm)
SKU:
JFL6006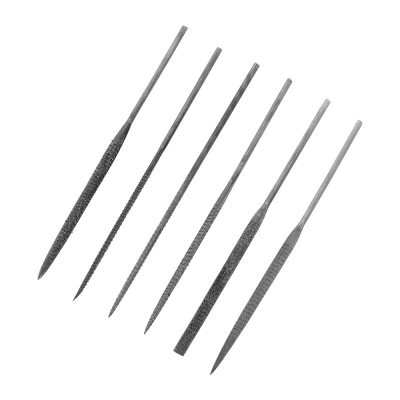 • 6 x 140mm rasp file profiles
• Used for rapid material removal, without clogging
• Ideal for use on wood or wax
Jeweltool 6 Pce Needle Rasp Files (140mm)
The needle rasp file set includes 6 profiles, flat, square, round, half round, triangle & warding. These 140mm files are excellent for use on wood or wax for rapid material removal, without clogging.

Files & Abraders
The file is the most frequently used tool when working with metal, wood, plastics and a host of other materials, so understanding the correct choice and usage of these tools is very important. Diamond files are particularly good for use on plastics and small models. Metal files can be used on a wide range of materials and there are 3 criteria required to correctly identify a file: The shape (cross-section), the length and the cut. There are many different cross sections available, but the principal ones are flat, square, round and half round. The length of the file is the distance from the shoulder below the tang to the end of the file. The cut refers to the pattern and density of the teeth.
Jeweltool used and approved by Jessica Rose
Jessica Rose is the award-winning founder of the London Jewellery School, one of the world's largest jewellery training centres, where over 9,000 people have learnt to make jewellery. The school runs 100s of fun and professional classes every year from its base in London, UK, as well as distance learning courses. For details see www.londonjewelleryschool.co.uk Jessica and her team aim to bring the fun and creativity of jewellery making to as many people as possible and love these tools that help beginners through to professional jewellers make beautiful jewellery.
Product Code: JFL6006
Product Name: Jeweltool 6 Pce Needle Rasp Files (140mm)
Brand: Jeweltool

Barcode: 5060030669269
Weight: 50 grams
Dimensions: 235mm x 120mm x 15mm

Shipping Weight: 84 grams
Shipping Dimensions: 235mm x 120mm x 15mm