Jeweltool Combination Ring Holding Pliers
Jeweltool Combination Ring Holding Pliers
SKU:
JPL1310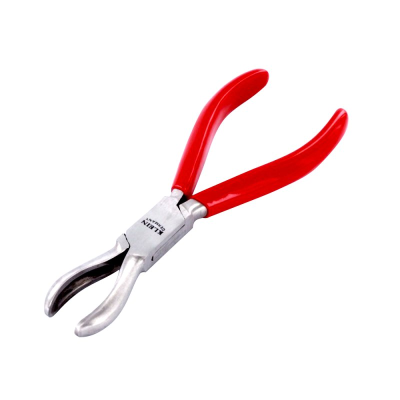 • Double side grooved jaws for holding rings
• Smooth jaws, stainless steel, professional quality
• Depressions inside the curved jaws provide a secure grip on the ring
Jeweltool Combination Ring Holding Pliers
Hollow jaws hold rings while work is being done particularly polishing the inside of a ring or repair. The Deep Grooves carved nose will allow you to use the pliers on the smallest of sizes but offer enough strength to close much larger gauges. Must for anyone that works with Captive Bead Ring or Segment Rings. The ring closing pliers will narrow the gap in captive bead rings to increase the tension that will hold a bead. Made from high-quality stainless steel & designed to last.

Jeweltool used and approved by Jessica Rose
Jessica Rose is the award-winning founder of the London Jewellery School, one of the world's largest jewellery training centres, where over 9,000 people have learnt to make jewellery. The school runs 100s of fun and professional classes every year from its base in London, UK, as well as distance learning courses. For details see www.londonjewelleryschool.co.uk Jessica and her team aim to bring the fun and creativity of jewellery making to as many people as possible and love these tools that help beginners through to professional jewellers make beautiful jewellery.
Product Code: JPL1310
Product Name: Jeweltool Combination Ring Holding Pliers
Brand: Jeweltool

Barcode: 5060030666206
Weight: 95 grams
Dimensions: 140mm x 55mm x 10mm

Shipping Weight: 119 grams
Shipping Dimensions: 230mm x 70mm x 16mm