Swann Morton Scalpel Blades No.10 x 100
Swann Morton Scalpel Blades No.10 x 100
SKU:
KN1216/10B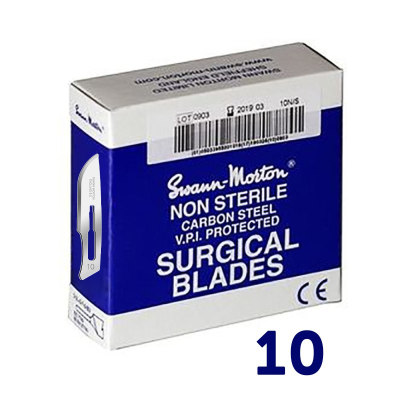 • Curved cutting edge
• Traditional blade shape
• Box of 100 blades #10
• For number 3 handle
Swann Morton Scalpel Blades No.10 x 100
The No.10 blade with its curved cutting edge is one of the more traditional blade shapes and is used generally for making small incisions in skin and muscle. The No.10 is often utilised in more specialised surgeries such as for harvesting the radial artery during a coronary artery bypass operation, opening the bronchus during thoracic surgery and for Inguinal hernia repair. The No.10 fits Handles 3, 3L, 3 Graduated, 5B, 7, 9, B3 and B3L.
Swann Morton
Founded in Sheffield during 1932, Swann-Morton have become a world leader in the manufacture of surgical blades, scalpels and handles. It is a name respected globally for quality, precision, consistency and reliability and recognised for combining traditional blade making skills with the latest technology.
Product Code: KN1216/10B
Product Name: Swann Morton Scalpel Blades No.10 x 100
Brand: Swann Morton

Barcode: 5033955001018
Weight: 100 grams
Dimensions: 95mm x 90mm x 35mm

Shipping Weight: 107 grams
Shipping Dimensions: 95mm x 90mm x 35mm