Swann Morton Scalpel Blades No.12 x 5
Swann Morton Scalpel Blades No.12 x 5
SKU:
KN1216/12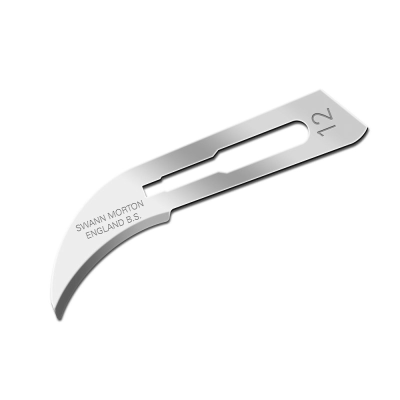 • Small, pointed, crescent-shaped blade
• Sharpened along the inside edge of the curve
• Pack of 5 blades #12
• For number 3 handle
Swann Morton Scalpel Blades No.12 x 5
The No.12 is a small, pointed, crescent shaped blade sharpened along the inside edge of the curve. It is sometimes utilised as a suture cutter but also for arteriotomies (surgical incision of an artery), parotid surgeries (facial salivary glands), mucosal cuts on a septoplasty (repair of nasal septum) and during cleft palate procedures, ureterolithotomies (calculus removal by incision of the ureter) and pyelolithotomies (surgical incision of the renal pelvis of a kidney for the removal of a kidney stone - also known as a pelviolithotomy ). The No.12 fits Handles 3, 3L, 3 Graduated, 5B, 7, 9, B3 and B3L.
Swann Morton
Founded in Sheffield during 1932, Swann-Morton have become a world leader in the manufacture of surgical blades, scalpels and handles. It is a name respected globally for quality, precision, consistency and reliability and recognised for combining traditional blade making skills with the latest technology.
Product Code: KN1216/12
Product Name: Swann Morton Scalpel Blades No.12 x 5
Brand: Swann Morton

Barcode:
Weight: 4 grams
Dimensions: 92mm x 30mm x 4mm

Shipping Weight: 4 grams
Shipping Dimensions: 92mm x 30mm x 4mm