Swann Morton Scalpel Blades No.21 x 5
Swann Morton Scalpel Blades No.21 x 5
SKU:
KN1216/21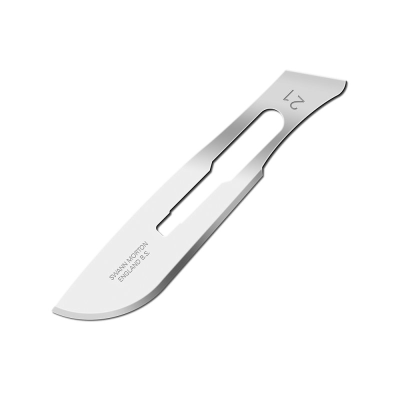 • Large version of the No.10 blade
• Curved cutting edge
• Pack of 5 blades #21
• For number 4 handle
Swann Morton Scalpel Blades No.21 x 5
The No.21 is a large version of the No.10 blade with a curved cutting edge and a flat, unsharpened back edge. Larger than the No.20 but smaller than the No.22 the No.21 fits handles 4, 4L, 4 Graduated & 6B.
Swann Morton
Founded in Sheffield during 1932, Swann-Morton have become a world leader in the manufacture of surgical blades, scalpels and handles. It is a name respected globally for quality, precision, consistency and reliability and recognised for combining traditional blade making skills with the latest technology.
List Price

£

2.26
£
2.26
inc Vat
You Save

0.0

%
Total: £

2.26
Product Code: KN1216/21
Product Name: Swann Morton Scalpel Blades No.21 x 5
Brand: Swann Morton

Barcode:
Weight: 4 grams
Dimensions: 92mm x 30mm x 4mm

Shipping Weight: 4 grams
Shipping Dimensions: 92mm x 30mm x 4mm