OptiVISOR Lens Plate No.7 (2.75x)
OptiVISOR Lens Plate No.7 (2.75x)
SKU:
OP1763/07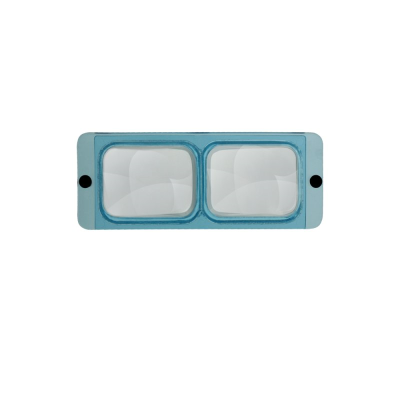 • High quality polished optical glass (crown ophthalmic) lenses • 50.8cm focal length • Made in USA to high-quality standards • Specifically designed for the Optivisor DA range of headband magnifiers
OptiVISOR Lens Plate No.7 (2.75x)
Optical glass prismatic lenses: Ground and polished to precision optical standards—bevel edged and mounted in an interchangeable plastic frame.
Donegan
Donegan Optical Company, Inc. since 1952 has been manufacturing precision visual aids for industry, home, office and crafts. Donegan products are 100% USA fabricated in our Lenexa, Kansas facility where we are fully equipped for precision glass grinding and polishing, injection and compression plastic molding, and design and tool development. Quality is our goal from the design to the finished product.
Product Code: OP1763/07
Product Name: OptiVISOR Lens Plate No.7 (2.75x)
Barcode: 633096000644
Weight: 42 grams
Dimensions: 100mm x 40mm x 5mm
Shipping Weight: 59 grams
Shipping Dimensions: 175mm x 90mm x 10mm