Modelcraft Mini Hook & Pick Set
Modelcraft Mini Hook & Pick Set
SKU:
PDT5000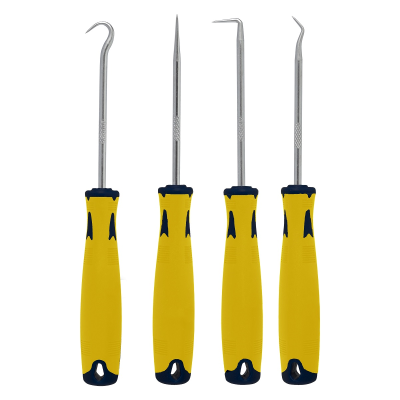 • 3 angled hooks & 1 straight pick
• For detail work, scribing & removing small parts
• Comfort grip handles and precision knurling
Modelcraft Mini Hook & Pick Set
Set of four hooks and picks, ideal for accessing difficult to reach areas and performing intricate tasks such as separating wires, removing small parts, cleaning & sculpting.
Featuring anti-roll handles with comfortable grips and precision knurling for better control as well as chrome plated shanks to reduce corrosion and protect against rust.
Perfect for modelling, hobby & craft as well as automotive and DIY tasks.
Hooks, Probes & Carvers
Used by modellers and hobbyists for a variety of specialist tasks such as fixing rigging in place whilst boat building, attaching rail carriages to model locomotives, scraping off excess materials, bending and twisting components and pulling wires and small parts. Also used in the automotive and engineering industries for the removal of small parts, O-rings and more.
The SHESTO Modelcraft Collection
The SHESTO Modelcraft collection is a comprehensive range of useful, often hard to find precision hand tools and accessories essential for any toolbox. The range of Modelcraft tools covers many applications where detail, precision and close up control are needed, such as: model making, general hobby & craft, electronics & light engineering, renovation & restoration, jewellery making, as well as smaller DIY and household repairs.
Product Code: PDT5000
Product Name: Modelcraft Mini Hook & Pick Set
Brand: Modelcraft