Modelcraft Flush Cutting Saw (16 tpi)
Modelcraft Flush Cutting Saw (16 tpi)
SKU:
PSA35/400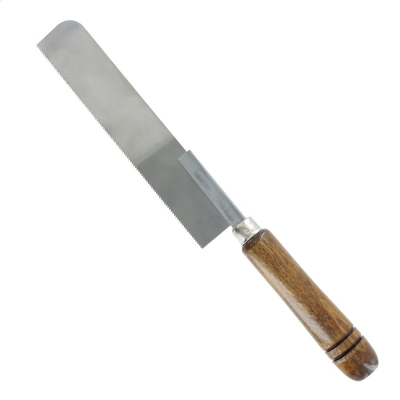 • Flexible blade
• For cutting dowels, pegs and plugs flush
• Cuts on the "pull stroke"
• 0.35mm (.012") thick blade
• 165mm (6.5") long
• 32mm (1 1/4") cutting depth
Modelcraft Flush Cutting Saw (16 tpi)
Superfine & Fine razor saws are ideal for wood and plastic without splitting or ragged edges. The medium saw offers longer wear in metal cutting applications.
The teeth on this flexible blade have no set so they will cut dowels, pegs and plugs flush without marring the work surface.

Saw & Saw Blades
Zona is the world's leading manufacturer of razor saws in the hobby industry and includes specialist saws suitable for a wide variety of applications such as model making, doll houses & miniatures, picture frames, woodworking & small precision DIY tasks.

The SHESTO Modelcraft Collection
The SHESTO Modelcraft collection is a comprehensive range of useful, often hard to find precision hand tools and accessories essential for any toolbox. The range of Modelcraft tools covers many applications where detail, precision and close up control are needed, such as: model making, general hobby & craft, electronics & light engineering, renovation & restoration, jewellery making, as well as smaller DIY and household repairs.
Product Code: PSA35/400
Product Name: Modelcraft Flush Cutting Saw (16 tpi)
Brand: Modelcraft

Barcode: 5060030663045
Weight: 55 grams
Dimensions: 285mm x 32mm x 25mm

Shipping Weight: 116 grams
Shipping Dimensions: 345mm x 125mm x 35mm