Modelcraft 13 Pce Railway & Hobby Hand Tool Set
Modelcraft 13 Pce Railway & Hobby Hand Tool Set
SKU:
PTK1013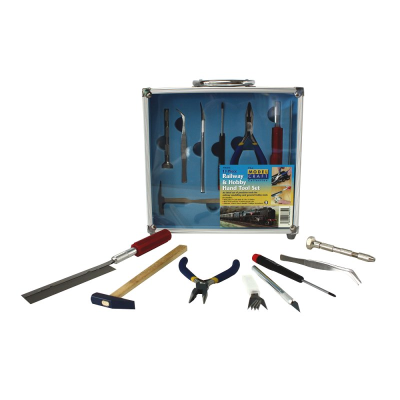 • Mini pliers
• Craft knife & 5 No.11 blades
• Bent nose tweezers
• Swivel top pin vice
• Hammer
• Razor saw & handle
• Phillips screwdriver
• Aluminium carry & storage case
Modelcraft 13 Pce Railway & Hobby Hand Tool Set
An ideal set of precision tools for railway modelling & general hobby tasks. Also comes in an attractive aluminium carry & storage case

Modelling & Hobby Tool Sets
The Model craft range includes various kits for your everyday use, from boat building, railway modelling, hobby & smaller DIY tasks as well as your general model making, repairing & craft. Each set provides different uses of tools that will fit perfectly into your criteria!

The SHESTO Modelcraft Collection
The SHESTO Modelcraft collection is a comprehensive range of useful, often hard to find precision hand tools and accessories essential for any toolbox. The range of Modelcraft tools covers many applications where detail, precision and close up control are needed, such as: model making, general hobby & craft, electronics & light engineering, renovation & restoration, jewellery making, as well as smaller DIY and household repairs.
Product Code: PTK1013
Product Name: Modelcraft 13 Pce Railway & Hobby Hand Tool Set
Brand: Modelcraft

Barcode: 5060030668392
Weight: 697 grams
Dimensions: 240mm x 235mm x 60mm

Shipping Weight: 799 grams
Shipping Dimensions: 240mm x 235mm x 60mm