Modelcraft 15 Pce Craft & Model Tool Set
Modelcraft 15 Pce Craft & Model Tool Set
SKU:
PTK1015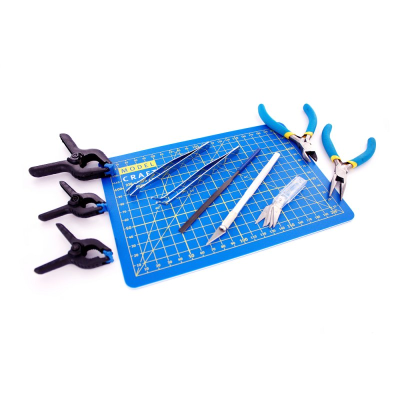 • Side cutter
• Snipe nose Plier
• Modellers knife with no. 11 Blade
• 5x no. 11 spare blades
• Flat hobby file
• Flat end tweezers
• Bent nose tweezer
• Grip clamps: 2 x 2" (50mm)
• Grip clamps: 1 x 3" (75mm)
• A5 size self-healing cutting mat
Modelcraft 15 Pce Craft & Model Tool Set
A 15 piece tool set that has everything you need for craft, model making, repairing and small general tasks. The A5 size self-healing mat is a perfect addition as it ensures no cracking or warping when using the blades, preventing any cutting errors and preserves the life of blades!

Modelling & Hobby Tool Sets
The Modelcraft range includes various kits for your everyday use, from boat building, railway modelling, hobby & smaller DIY tasks as well as your general model making, repairing & craft.

The SHESTO Modelcraft Collection
The SHESTO Modelcraft collection is a comprehensive range of useful, often hard to find precision hand tools and accessories essential for any toolbox. The range of Modelcraft tools covers many applications where detail, precision and close up control are needed, such as: model making, general hobby & craft, electronics & light engineering, renovation & restoration, jewellery making, as well as smaller DIY and household repairs.
Product Code: PTK1015
Product Name: Modelcraft 15 Pce Craft & Model Tool Set
Brand: Modelcraft

Barcode: 5060252021098
Weight: 345 grams
Dimensions: 340mm x 210mm x 20mm

Shipping Weight: 429 grams
Shipping Dimensions: 340mm x 210mm x 20mm