Modelcraft Plank Bending Tool Kit 220-240v, 30w (EU Plug)
Modelcraft Plank Bending Tool Kit 220-240v, 30w (EU Plug)
SKU:
PTK3030EU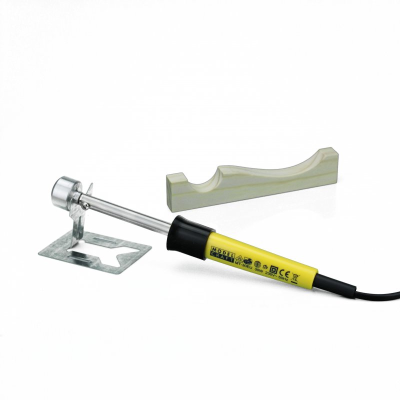 • Ideal for bending planking strips to the desired curvature
Modelcraft Plank Bending Tool Kit 220-240v, 30w
•The Plank Bending tool is ideal for bending planking strips to the desired curvature
• The rounded head on the tool should be warmed up and the wooden strip should be placed on the wooden template form. The strip is then heated by running the tool head over it a few times until the required curve is achieved.
• It works on dry strips with a maximum thickness of 1mm
• For thickness over 1mm, the strip must be dampened
• Set includes: Tool with a rounded head, tool stand & wooden template form.
• Use with caution as parts will be hot
Note: This is the EU version.


The SHESTO Modelcraft Collection
The SHESTO Modelcraft collection is a comprehensive range of useful, often hard to find precision hand tools and accessories essential for any toolbox. The range of Modelcraft tools covers many applications where detail, precision and close up control are needed, such as: model making, general hobby & craft, electronics & light engineering, renovation & restoration, jewellery making, as well as smaller DIY and household repairs.
Product Code: PTK3030EU
Product Name: Modelcraft Plank Bending Tool Kit 220-240v, 30w (EU plug)
Brand: Modelcraft

Barcode: 5060252021449
Weight: 209 grams
Dimensions: 345mm x 130mm x 80mm

Shipping Weight: 285 grams
Shipping Dimensions: 345mm x 130mm x 80mm