Rotacraft RC36 3.6V USB Screwdriver
Rotacraft RC36 3.6V USB Screwdriver
SKU:
RC36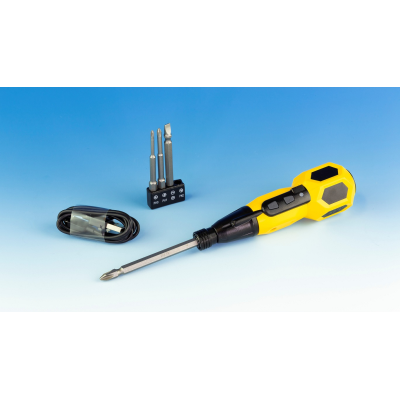 • Portable, lightweight design with soft grip
• Fitted with LED light
• Simple push-button control for forward & reverse
• Quick release chuck
• Includes 4 Bits; Single end 75mm PH0, Single end 75mm PH1, Double end 75mm PH2 & Slot, Double end 110mm PH2
Rotacraft RC36 USB Screwdriver
A powerful, pocket-sized rechargeable screwdriver for DIY, hobby and electronics. This screwdriver is ideal for tight spaces and tricky spots where the narrow tip and LED light give you easy access and clear visibility.
Featuring a built-in rechargeable lithium-ion battery with micro USB charging cable, fully charged in just 60 mins.
Rotacraft

Rotacraft offers an excellent range of precision tool kits – 12 volt, 230 volt and Cordless, suitable for beginner and the professional user. The tools are supported by a wide range of accessories and attachments. Ideal for modelling, electronics, general DIY, craft work, antique repair & restoration, engraving, jewellery making plus a variety of other precision tasks.
Product Code: RC36
Product Name: Rotacraft RC36 USB Screwdriver
Brand: Rotacraft

Barcode: 5060202029933
Weight: 246 grams
Dimensions: 145mm x 40mm x 40mm

Shipping Weight: 334 grams
Shipping Dimensions: 145mm x 40mm x 40mm