Rotacraft 2.35mm Shank Drills x 3 (1.2mm)
Rotacraft 2.35mm Shank Drills x 3 (1.2mm)
SKU:
RDR2343/12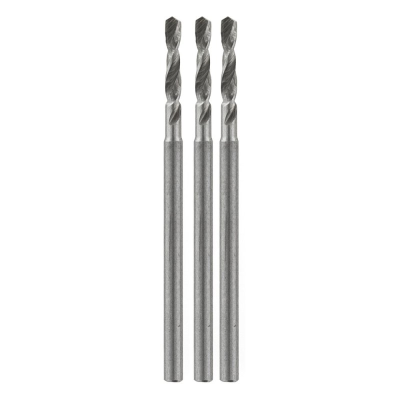 • Handy packs of 3 HSS twist drills with 2.35mm shanks
• Ideal for use with drills requiring a collet
• No need to change collets to suit the size of drill required
• 3 x Individual Size 2.35mm Shank Drills
• Available RDR234/05,06,08,10,12,15,18,20
Rotacraft RDR2343 2.35mm Shank Drills x 3

A range of fine and superfine HSS drill bits for precision drilling work in wood, metals and plastics.
Mini Rotary Tools
They are ideal for hobby, electronics, craft, restoration, renovation and smaller DIY jobs. The accessories are the business end of the electric and the comprehensive Rotacraft range covers a wide variety of tasks: cutting & grinding, drilling, engraving, cleaning & polishing, sanding & shaping, carving & milling.
Rotacraft
Rotacraft offers an excellent range of precision tool kits – 12 volt, 230 volt and Cordless, suitable for beginner and the professional user. The tools are supported by a wide range of accessories and attachments. Ideal for modelling, electronics, general DIY, craft work, antique repair & restoration, engraving, jewellery making plus a variety of other precision tasks.
Product Code: RDR2343/12
Product Name: Rotacraft 2.35mm Shank Drills (1.2mm) x 3
Barcode: 5060030661973
Weight: 3 grams
Dimensions: 145mm x 55mm x 44mm
Shipping Weight: 11 grams
Shipping Dimensions: 145mm x 55mm x 44mm