Rotacraft 20 Pce Microbox Drill Set (61 - 80mm)
SKU:
RDR4004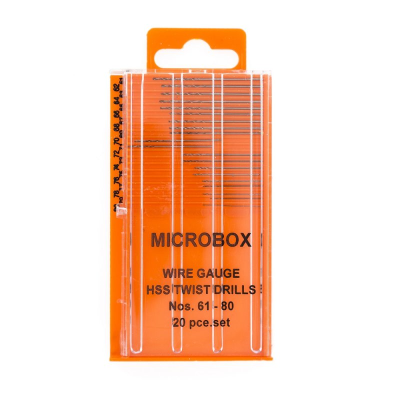 • Microbox drill set in a plastic index box with sliding top
• Keeps drills securely in place and dispenses only one at a time
• Drills replaceable individually RDR1905/3,4,5,6,7,8,9,10,12,15,18,20
• Sizes 61 to 80 inclusive (wire gauge)
• Ideal for hobby, craft,electronics,restoration,small DIY and renovation
Rotacraft 20 Pce Microbox Drill Set (61 - 80mm)
This 20 piece set contains only the best quality HSS ground drills (not to be confused with similar looking sets contained cheaper inferior drills). Handy slide-top box releases only chosen drill.
Sizes include:
61, 62, 63, 64, 65, 66, 67, 68, 69, 70, 71, 72, 73, 47, 75, 76, 78, 79, 80
Drilling
A full range of fine and superfine HSS drill bits for precision drilling work in wood, metals and plastics.
Rotacraft
Rotacraft offers an excellent range of precision tool kits – 12 volt, 230 volt and Cordless, suitable for beginner and the professional user. The tools are supported by a wide range of accessories and attachments. Ideal for modelling, electronics, general DIY, craft work, antique repair & restoration, engraving, jewellery making plus a variety of other precision tasks.
List Price

£

10.96
£
10.96
inc Vat
You Save

0.0

%
Total: £

10.96
Product Code: RDR4004
Product Name: Rotacraft 20 Pce Microbox Drill Set (61 - 80mm)
Brand: Rotacraft

Barcode: 5060030662178
Weight: 27 grams
Dimensions: 125mm x 60mm x 9mm

Shipping Weight: 61 grams
Shipping Dimensions: 235mm x 120mm x 15mm