Rotacraft RDR4005 10 Pce Microbox Shank Drill Set (0.5 - 2.2mm)
Rotacraft RDR4005 10 Pce Microbox Shank Drill Set (0.5 - 2.2mm)
SKU:
RDR4005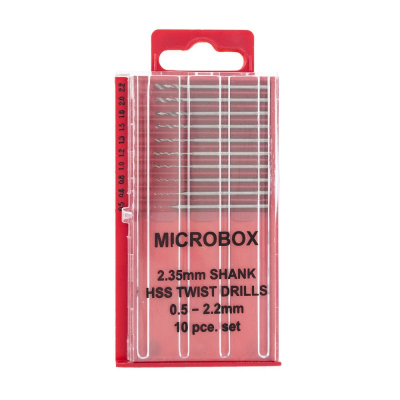 • Microbox drill set in a plastic index box with sliding top
• Keeps drills securely in place and dispenses only one at a time
• Drills replaceable indivdually RDR1905/3,4,5,6,7,8,9,10,12,15,18,20
• Sizes 0.5, 0.6, 0.8, 1.0, 1.2, 1.3, 1.5, 1.8, 2.0 and 2.2mm
• Ideal for hobby, craft,electronics,restoration,small DIY and renovation
Rotacraft RDR4005 10 Pce Microbox Shank Drill Set (0.5 - 2.2mm)
This 10 piece set contains only the best quality HSS ground drills (not to be confused with similar looking sets contained cheaper inferior drills). These are designed to be held in a collet or chuck, particularly useful for use with miniature power drills.
Sizes include:
0.5mm, 0.6mm, 0.8mm, 1.0mm,1.2mm,1.3mm,1.5mm,1.8mm,2.0mm,2.2mm
Drilling
A full range of fine and superfine HSS drill bits for precision drilling work in wood, metals and plastics.

Rotacraft
Rota Craft offers an excellent range of precision tool kits – 12 volt, 230 volt and Cordless, suitable for beginner and the professional user. The tools are supported by a wide range of accessories and attachments. Ideal for modelling, electronics, general DIY, craft work, antique repair & restoration, engraving, jewellery making plus a variety of other precision tasks.
Product Code: RDR4005
Product Name: Rotacraft RDR4005 10 Pce Microbox Shank Drill Set (0.5 - 2.2mm)
Brand: Rotacraft

Barcode: 5060030662093
Weight: 30 grams
Dimensions: 125mm x 60mm x 9mm

Shipping Weight: 64 grams
Shipping Dimensions: 235mm x 120mm x 15mm