Rotacraft 3 Pce Diamond Saws & Mandrel
Rotacraft 3 Pce Diamond Saws & Mandrel
SKU:
RSA7004/S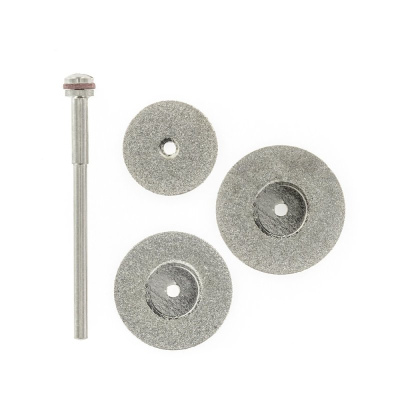 • Set of 3 fine tooth cutting saws (15, 19 and 22mm)
• For use on plastics, soft wood and non-ferrous metals
• Supplied with 2.35mm mandrel
• For use in mini rotary power tools
• Ideal for hobby, craft,electronics,restoration,small DIY and renovation
Rotacraft 3 Pce Diamond Saws & Mandrel
Diamond mini saw wheels for cutting thin hard metals & soft materials.

Cutting & Grinding
• Carborundum slitting discs for cutting screws, bolts, nails, wire, chain & plastics
• HSS mini saw wheels for cutting wood and plastics
• Diamond mini saw wheels for cutting thin hard metals & soft metals
• Grinding wheels & stones for de-burring and general grinding tasks on metal, stone, wood and plastics. Also for sharpening work on metal.
• Milling cutters for a variety of hollowing, carving, shaping and engraving work on wood, metals and plastics.
Rotacraft
Rotacraft offers an excellent range of precision tool kits – 12 volt, 230 volt and Cordless, suitable for beginner and the professional user. The tools are supported by a wide range of accessories and attachments. Ideal for modelling, electronics, general DIY, craft work, antique repair & restoration, engraving, jewellery making plus a variety of other precision tasks.
Product Code: RSA7004/S
Product Name: Rotacraft 3 Pce Diamond Saws & Mandrel
Brand: Rotacraft

Barcode: 5060030662185
Weight: 4 grams
Dimensions: 145mm x 55mm x 44mm

Shipping Weight: 12 grams
Shipping Dimensions: 145mm x 55mm x 44mm