Soldercraft 25w - 230v Soldercraft Soldering Iron
Soldercraft 25w - 230v Soldercraft Soldering Iron
SKU:
SC7025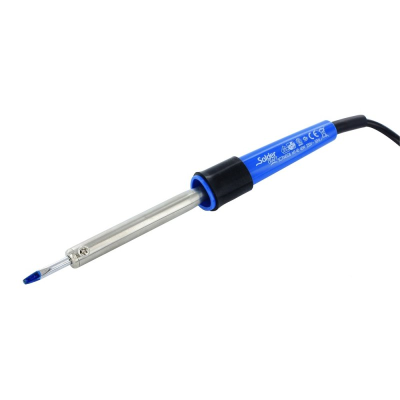 • Rugged, economical and versatile
• 25w, 230v Electric Soldering Iron
• Feature a sturdy heater unit design
• Fitted with 4mm pencil tip #8
• Each iron is supplied with a simple stand and operating manual
Soldercraft 25w - 230v Soldercraft Soldering Iron
This multi-use 25w - 230v Soldering Iron works on elecrical components as well as general repairs. It has a Premium 3.5mm diameter pencil shaped bit fitted.

Soldercraft Irons
The Soldercraft mains irons are intended for direct connection to the mains voltage (220-240v)and feature a sturdy heater unit. Each iron is fitted with a high performance bit-ready to use. Whether you are looking for a soldering iron or tools, the Solder craft range will have the perfect tool for you. Ideal for your craft, hobby use, jewellery, dental repairs & electronics.

Soldercraft
Soldering is an easy and inexpensive method of joining light articles made from steel, copper or brass and securing wires made from these materials. Whether you are looking for a traditional electric soldering iron, a battery operated unit, or even a gas powered cordless iron – you will find a suitable tool for the job in the Soldercraft range. Also featured, a selection of excellent Pyrography tools ideal for making and decorating wood and leathers.
Product Code: SC7025
Product Name: Soldercraft 25w - 230v Soldercraft Soldering Iron
Brand: Soldercraft

Barcode: 5060030666794
Weight: 200 grams
Dimensions: 345mm x 130mm x 80mm

Shipping Weight: 275 grams
Shipping Dimensions: 345mm x 130mm x 80mm