Soldercraft Pyrography Craft Set
Soldercraft Pyrography Craft Set
SKU:
SL2026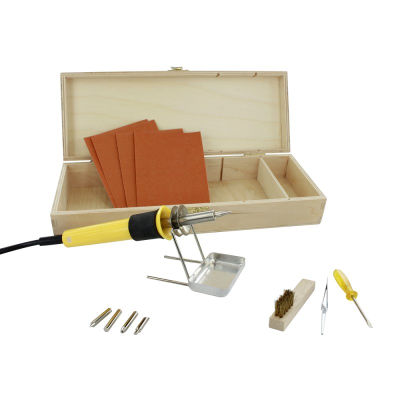 • Pyrography iron 26w - 220-240V / 50-60 Hz
• 5 tips, Iron stand & operating manual
• Wooden Craft Box, metal tray for tips & 4 sheets sanding paper
• Stencils, cleaning brush, screwdriver & tweezer
• For burning or scorching designs on wood & leather
Soldercraft Pyrography Craft Set
A comprehensive wooden boxed set containing all you need to enjoy this fascinating hobby.

Pyrography
Pyrography means 'writing with fire' and is the traditional art of using a heated tip or wire to burn or scorch designs onto natural materials such as wood or leather. Burning can be done by means of modern solid point tool (similar to soldering iron).

Soldercraft
Soldering is an easy and inexpensive method of joining light articles made from steel, copper or brass and securing wires made from these materials. Whether you are looking for a traditional electric soldering iron, a battery operated unit, or even a gas powered cordless iron – you will find a suitable tool for the job in the Soldercraft range. Also featured, a selection of excellent Pyrography tools ideal for making and decorating wood and leathers.
List Price

£

64.96
£
64.96
inc Vat
You Save

0.0

%
Total: £

64.96
Product Code: SL2026
Product Name: Soldercraft Pyrography Craft Set
Brand: Soldercraft

Barcode: 5060030663434
Weight: 645 grams
Dimensions: 315mm x 115mm x 60mm

Shipping Weight: 647 grams
Shipping Dimensions: 315mm x 115mm x 60mm