Xuron Angled Micro-Shear Cutter
Xuron Angled Micro-Shear Cutter
SKU:
XPL0420/T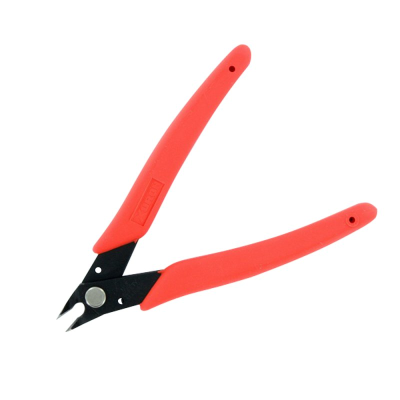 • Original Micro-Shear® flush cutter sets
• Awarded US Patent 3774301
• Unique Micro-Shear® blade bypass cutting method
• Fantastic professional quality made in the USA
• Used globally by leading manufacturers
• Optimized for work in high-density areas
• Rated for cutting soft wire up to 22 AWG (0.64mm)
• Micro-Shear combined with a 55° angled cutter head
Xuron Angled Micro-Shear Cutter

Tapered tip provides access into "tight" areas while 55 degree angled cutter head improves sight lines for both vertical and horizontal cutting.

Rated for cutting soft wire up to 22 AWG (0.6mm)
Project type:
• Wire Weaving
• Robotics
• Plastics De-Gating
• Plastic Kit Modeling
• Model Railroading
• Jewellery Manufacturing
• General Hobbies And Crafts
• Electronics
• Chainmaille
• Bead Stringing
Special Features: Extra Tapered Tip
Wire size: 22-30
Material(s):
• Wire
• Silver Wire
• Plastic Sprue
• Plastic (de-gating)
• Gold Wire
• Craft Wire
• Copper Wire
• Bead Wire
• Monofilament

Xuron
Founded in 1971, Xuron Corp. is one of the world's leading manufacturers of ergonomic, electronics-grade hand tools for the electronics, aerospace, plastic moulding, wire processing, hobby, craft, jewellery and fishing industries.
Xuron Corp. is the original inventor, and patent holder, of the Micro-Shear® blade by-pass cutting technology used on all Xuron® brand cutters.
Product Code: XPL0420/T
Product Name: Xuron Angled Micro-Shear Cutter
Brand: Xuron

Barcode: 615265900431
Weight: 49 grams
Dimensions: 130mm x 47mm x 16mm

Shipping Weight: 63 grams
Shipping Dimensions: 210mm x 85mm x 20mm