Xuron Tweezernose Pliers
SKU:
XPL0450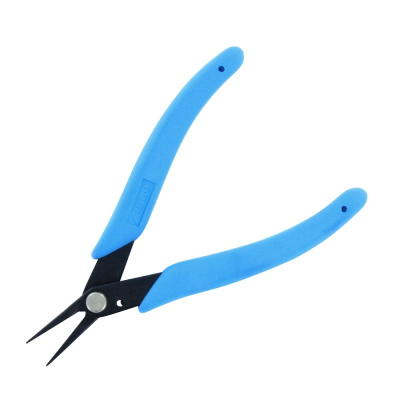 • The ultimate smooth jaw needle nose pliers
• Precise enough to handle the most delicate parts
• Strong enough to form and bend wire
• Light-touch return spring speeds up work
Xuron Tweezernose Pliers

An ultra-precise needle-nose plier capable of grasping and holding wire less than 1 mil thick with the strength for wire forming. Strong and durable with precision tip alignment and radiused edges to protect wire.
Project type:
• Wire Harness Manufacturing
• Telecommunications
• Jewellery Manufacturing
• Electronics
• Electrical
Xuron
Founded in 1971, Xuron Corp. is one of the world's leading manufacturers of ergonomic, electronics-grade hand tools for the electronics, aerospace, plastic moulding, wire processing, hobby, craft, jewellery and fishing industries.
Xuron Corp. is the original inventor, and patent holder, of the Micro-Shear® blade by-pass cutting technology used on all Xuron® brand cutters.
Product Code: XPL0450
Product Name: Xuron Tweezernose Pliers
Brand: Xuron

Barcode: 615265900653
Weight: 59 grams
Dimensions: 127mm x 49mm x 31mm

Shipping Weight: 73 grams
Shipping Dimensions: 210mm x 85mm x 20mm