Modelcraft 16 Pce Precision Craft Knife Set
Modelcraft 16 Pce Precision Craft Knife Set
SKU:
PKN3305/S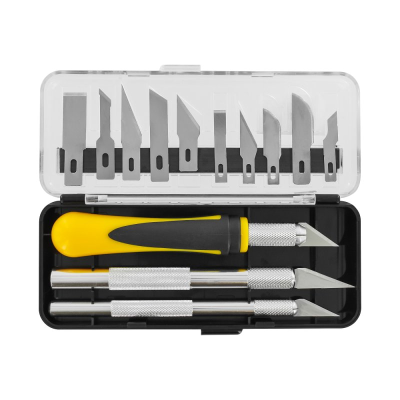 • Perfect for wood, cardboard, paper, plastic & light metal foils
• For craft, Hobby & smaller DIY tasks
Modelcraft 16 Pce Precision Craft Knife Set
This excellent set comes complete with a choice of 3 knife handles & 13 various blades, ideal for hobby, craft as well as professional tasks. The knives can perform fine angle cuts & precise trimming, cutting, carving, sawing, gouging & shaping. All packed in handy storage case.

The set includes:
Classic craft knife #1
Medium duty hobby knife #2
Plastic handled craft knife #5

Blades to fit the #1 handle & Blades to fit the #2 & #5 handle:
1x General purpose curved blade #10
2x Large fine point blade #2
2x Classic Fine point blades #11
1x Chiselling blade #18
1x Scoring blade #16
1x Angled chiselling blade #19
1 x Chiselling blade #17
1x Large curved carving blade #22
2x Deburring blades #24
1x Stencil edge blade #68

These blades are compatible with other brands including X-ACTO ®, Proedge ® & etc.

The SHESTO Modelcraft Collection
The SHESTO Modelcraft collection is a comprehensive range of useful, often hard to find precision hand tools and accessories essential for any toolbox. The range of Modelcraft tools covers many applications where detail, precision and close up control are needed, such as: model making, general hobby & craft, electronics & light engineering, renovation & restoration, jewellery making, as well as smaller DIY and household repairs.
Product Code: PKN3305/S
Product Name: Modelcraft 16 Pce Precision Craft Knife Set
Brand: Modelcraft

Barcode: 5060252022439
Weight: 164 grams
Dimensions: 150mm x 65mm x 30mm

Shipping Weight: 198 grams
Shipping Dimensions: 219mm x 79mm x 15mm