Modelcraft 9 Pce Plastic Modelling Tool Set
Modelcraft 9 Pce Plastic Modelling Tool Set
SKU:
PTK1009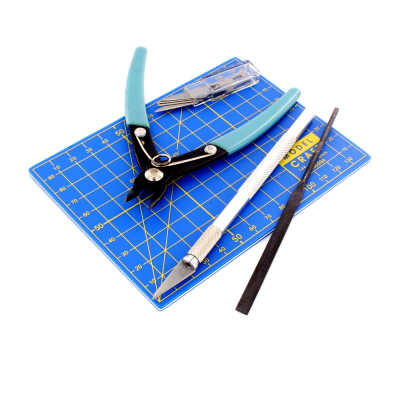 • Plastic sprue cutter
• Mini flat file
• Self-healing cutting mat
• Craft knife
• 5 spare blades
Modelcraft 9 Pce Plastic Modelling Tool Set
An ideal set for plastic modelling & other craft and hobby applications.
This 9 piece set includes:
Plastic Sprue Cutter- for cutting & snipping sprues and parts on plastic kits e.g. planes, cars, boats, military models and figures etc.
Mini Flat File – For filing and smoothing off burrs or excess material
Craft Knife- For cutting out shapes, decals and general craft/hobby tasks
Self-Healing cutting Mat- Protects work surface and extends blade life

Modelling & Hobby Tool Sets
The Modelcraft range includes various kits for your everyday use, from boat building, railway modelling, hobby & smaller DIY tasks as well as your general model making, repairing & craft. Each set provides different uses of tools that will fit perfectly into your criteria!

The SHESTO Modelcraft Collection
The SHESTO Modelcraft collection is a comprehensive range of useful, often hard to find precision hand tools and accessories essential for any toolbox. The range of Modelcraft tools covers many applications where detail, precision and close up control are needed, such as: model making, general hobby & craft, electronics & light engineering, renovation & restoration, jewellery making, as well as smaller DIY and household repairs.
Product Code: PTK1009
Product Name: Modelcraft 9 Pce Plastic Modelling Tool Set
Brand: Modelcraft

Barcode: 5060030668781
Weight: 132 grams
Dimensions: 245mm x 170mm x 16mm

Shipping Weight: 170 grams
Shipping Dimensions: 245mm x 170mm x 16mm