Modelcraft Masking Putty
SKU:
PMA1000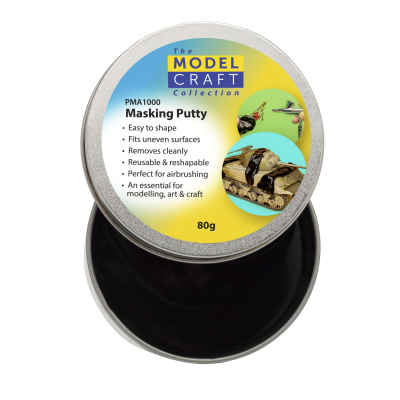 • Mask areas before painting
• Easily shaped to follow curves and details
• Removes without damaging surfaces or paintwork
• Ideal for airbrushing and modelling
Modelcraft Masking Putty
Re-useable masking putty is designed to be easily removed without damaging painted areas. This versatile putty can be rolled, cut and shaped to suit any task, perfect for creating both hard and soft edges when airbrushing and making camouflage patterns.
It doesn't stain, is grease-free and leaves no residue.
The Modelcraft Collection
The Modelcraft collection is a comprehensive range of useful, often hard-to-find precision hand tools and accessories essential for any toolbox. The range of Modelcraft tools covers many applications where detail, precision and close-up control are needed, such as model making, general hobby & craft, electronics & light engineering, renovation & restoration, jewellery making, as well as smaller DIY and household repairs.
Product Code: PMA1000
Product Name: Modelcraft Masking Putty
Brand: Modelcraft