Modelcraft Precision Angled Cutter
Modelcraft Precision Angled Cutter
SKU:
PPL6900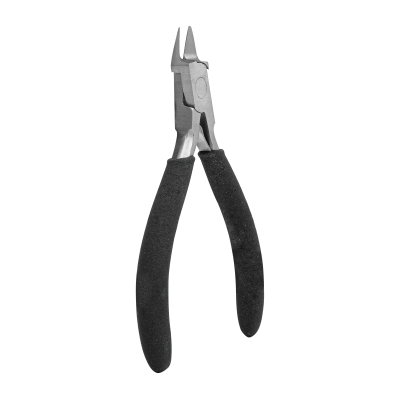 • Slim angled blades for precise cuts
• Hardened carbon steel jaws
• Sharp flush cuts with minimal clean-up
• Comfortable handle
• Ideal for plastic & resin
• An essential tool for miniature building, crafts and more
Modelcraft Precision Angled Cutter
Specially designed for accurate flush cuts in plastic and resin, this precision side cutter removes parts cleanly with minimal clean-up required. Ideal for removing parts from sprues, trimming and preparing parts.
Lightweight and comfortable to use, with sharp blades for easy cutting, the precision cutter will save you time and energy by making clean cuts first time. Perfect for modelling and craft projects.
Note: This cutter is designed for use with plastic & resin, cutting hard material such as metal may damage the blades.
Pliers & Nippers
Perhaps it is stating the obvious to say that pliers are for gripping and pulling a wide variety of wires and other materials. It is because they are suitable for such a wide variety of tasks that careful selection of the 'right tool for the job' is imperative to achieve the best results. The Modelcraft collection offers a useful range of miniature pliers for most modelling and hobby applications. Comfortable insulated handles and opening spring make these pliers and nippers a joy to use

The Modelcraft Collection
The Modelcraft collection is a comprehensive range of useful, often hard-to-find precision hand tools and accessories essential for any toolbox. The range of Modelcraft tools covers many applications where detail, precision and close-up control are needed, such as: model making, general hobby & craft, electronics & light engineering, renovation & restoration, jewellery making, as well as smaller DIY and household repairs.
Product Code: PPL6900
Product Name: Modelcraft Precision Angled Cutter
Brand: Modelcraft