Modelcraft Pro Plastic Modelling Tool Set
Modelcraft Pro Plastic Modelling Tool Set
SKU:
PTK1010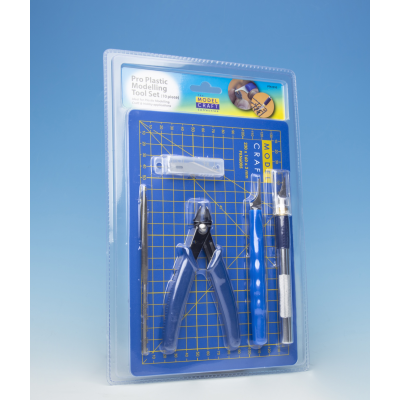 • Flush Cutter
• Soft Grip #2 Hobby Knife with Magnetic End
• 5x Spare #2 Blades
• Half-Round Needle File
• Mouldline Remover
• A5 Cutting Mat
Modelcraft Pro Plastic Modelling Tool Set
This 10-piece kit includes all the tools you need to assemble and prepare plastic models to a high standard.
• Flush Cutter with spring-action & comfortable grips, ideal for removing components from the sprue.
• #2 Hobby Knife with 5 Spare Blades for intricate cutting and trimming.
• Half-Round Needle File and Mouldline Remover for cleaning and preparatory work.
• A5 Self-Healing Cutting Mat with non-slip surface.
The Modelcraft Collection
The Modelcraft Collection is a comprehensive range of useful, often hard to find precision hand tools and accessories essential for any toolbox. The range of Model Craft tools covers many applications where detail, precision and close up control are needed, such as: model making, general hobby & craft, electronics & light engineering, renovation & restoration, jewellery making, as well as smaller DIY and household repairs.
Not to be sold to persons under 18 years if age 18+. Keep blade out of reach of children and animals to avoid injury.
Product Code: PTK1010
Product Name: Modelcraft Pro Plastic Modelling Tool Set
Brand: Modelcraft