Foil Art Super Tack Glue Pen
Foil Art Super Tack Glue Pen
SKU:
FA201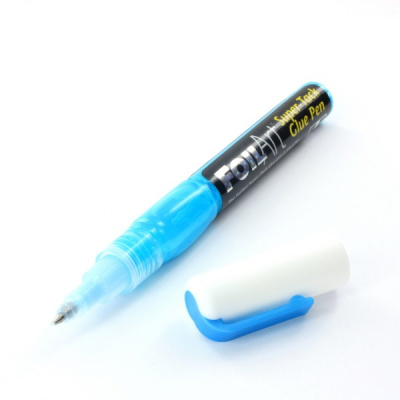 • 1 x 7g glue pen
• Long lasting and quick drying for drawing
• Writing and decorating your projects
Foil Art Super Tack Glue Pen
Foiling is fun and so easy to do. Giving your project a finishing touch is as simple as writing, drawing or colouring in. The example below is a quick and easy hand-made Greeting card. The phrase "Thank You" and the picture "Flowers" were done free hand.
Step 1. Use the Foil Art Super-Tack glue pen to create your design- apply glue by writing, drawing or colouring in an area on your project.
Step 2. Wait a few minutes for glue to dry clear and tacky now apply the foil over the glue design, shiny colour side facing upwards, press foil down firmly all over to bond foil to glue.
Step 3. Peel foil away to expose your stunning metallic design, Voila!

Simplicity and Versatility! Use Foil Art to decorate School Projects, Hi-lite Art, Decorating Scrapbook pages, make your own range of designer Greeting cards, Table seating cards, personalise Gift Bags, Gift tags, make Bookmarks. It even works on wood. You will be amazed at the difference just a little foil can make to your project. Stunning, eye-catching, trendy and fabulous!
Foil Art
Foil Art is easy to use and enables you to add stunning, eye-catching metallic effects to creative projects almost instantly. Ideal for: art & craft projects, greeting cards & stationery, scrapbooking, school projects, party décor, picture frames and gift items.
Product Code: FA201
Product Name: Foil Art Super Tack Glue Pen
Brand: Foil Art

Barcode: 5060252020046
Weight: 15 grams
Dimensions: 145mm x 20mm x 15mm

Shipping Weight: 38 grams
Shipping Dimensions: 230mm x 70mm x 16mm