Jeweltool Archimedean Drill Holder
Jeweltool Archimedean Drill Holder
SKU:
JDR1411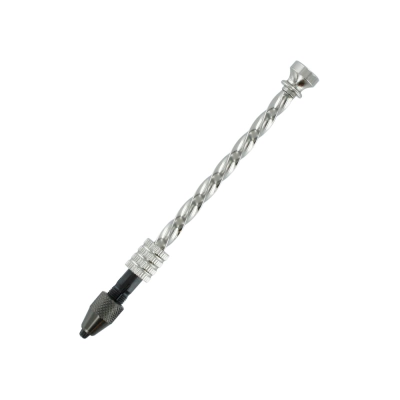 • Mini spiral hand drill
• Turns by pushing the knurled centre ring
Jeweltool Archimedean Drill Holder
This mini hand drill is ideal for use with very small drills as supplied in Jewel Tool Microbox drill sets JDR4001 and JDR4004.
Drills, Reamers & Tool Holders
The Model craft Collection includes, Drills, Reamers & Pin Vices. Successful drilling depends not only on using the right drill bit for the job, but also in using the right techniques to guarantee accuracy. It could well be that a small Archimedean drill will allow you more control than mounting the bit into an oversize power drill. Taper reamers are ideal for finishing and deburring panel holes.
Jeweltool used and approved by Jessica Rose
Jessica Rose is the award-winning founder of the London Jewellery School, one of the world's largest jewellery training centres, where over 9,000 people have learnt to make jewellery. The school runs 100s of fun and professional classes every year from its base in London, UK, as well as distance learning courses. For details see www.londonjewelleryschool.co.uk Jessica and her team aim to bring the fun and creativity of jewellery making to as many people as possible and love these tools that help beginners through to professional jewellers make beautiful jewellery.
Product Code: JDR1411
Product Name: Jeweltool Archimedean Drill Holder
Brand: Jeweltool

Barcode: 5060030669238
Weight: 24 grams
Dimensions: 110mm x 9mm x 9mm

Shipping Weight: 46 grams
Shipping Dimensions: 230mm x 70mm x 16mm