Jeweltool 10 Pce Microbox Drill (0.5 - 2.2mm)
Jeweltool 10 Pce Microbox Drill (0.5 - 2.2mm)
SKU:
JDR4005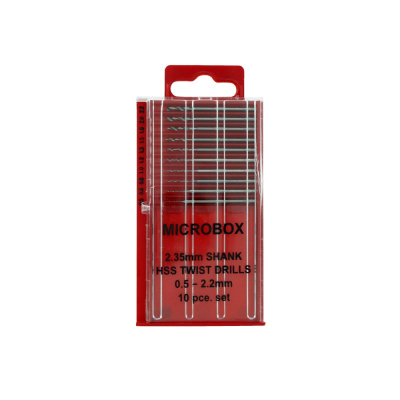 • Microbox Drill Set (0.5- 2.2mm) x 10
• High-speed steel drills from 0.5 to 2.2mm all with standard 2.35mm size shanks
• 10 piece Microbox 2.25mm shank drill set-metric
• Inclusive handy sliding top index storage dispenser
• Keeps drills securely in place
• Ideal for hobby & smaller DIY tasks
Jeweltool 10 Pce Microbox Drill (0.5 - 2.2mm)

This 10 piece set contains only the best quality HSS ground drills (not to be confused with similar looking sets containing cheaper inferior drills). These are designed to be held in a collet or chuck, particularly useful for use with miniature power drills.

Drill sizes:
0.5mm, 0.6mm, 0.8mm, 1.0mm, 1.2mm, 1.3mm, 1.5mm,1.8mm,2.0mm 2.2mm

Jeweltool used and approved by Jessica Rose
Jessica Rose is the award-winning founder of the London Jewellery School, one of the world's largest jewellery training centres, where over 9,000 people have learnt to make jewellery. The school runs 100s of fun and professional classes every year from its base in London, UK, as well as distance learning courses. For details see www.londonjewelleryschool.co.uk Jessica and her team aim to bring the fun and creativity of jewellery making to as many people as possible and love these tools that help beginners through to professional jewellers make beautiful jewellery.
Product Code: JDR4005
Product Name: Jeweltool 10 Pce Microbox Drill (0.5 - 2.2mm)
Brand: Jeweltool

Barcode: 5060030661409
Weight: 39 grams
Dimensions: 125mm x 60mm x 9mm

Shipping Weight: 73 grams
Shipping Dimensions: 235mm x 120mm x 15mm