Policraft Tapered Spindle for 1/4'' Chuck (6.4mm)
Policraft Tapered Spindle for 1/4'' Chuck (6.4mm)
SKU:
PC1034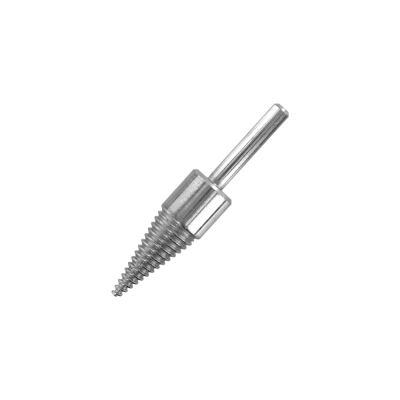 • "Pig tail" for fitting into drill chucks
• To hold leather centred buffs
• Enables mops to be used in a power drill or flexible shaft
Policraft Tapered Spindle for 1/4'' Chuck (6.4mm)
The Policraft range of arbors and spindles is ideal for use with leather centred & pin hole buffs. Plain bore "false noses" fitted with grub screw for secure fixing to motor shafts.
"Pig tail" for fitting into drill chucks to hold leather centred buffs.

Arbors and Spindles

The Policraft range includes a selection of spindles and arbors for connecting polishing buffs to any type of power tool.

Policraft
The simple way to produce a professional high quality finish on most materials. Buffing is one of the best ways to restore the original appearance to many varied materials. The techniques used extensively by industry to bring products to a professional finish are often closely guarded secrets. Now anyone can master these processes and end up with professional result using the Policraft range of products.
Product Code: PC1034
Product Name: Policraft Tapered Spindle for 1/4'' Chuck (6.4mm)
Brand: Policraft

Barcode: 5060030665995
Weight: 46 grams
Dimensions: 80mm x 15mm x 15mm

Shipping Weight: 54 grams
Shipping Dimensions: 145mm x 55mm x 25mm