Policraft Blue Twin Pack Bars (125g)
Policraft Blue Twin Pack Bars (125g)
SKU:
PC1105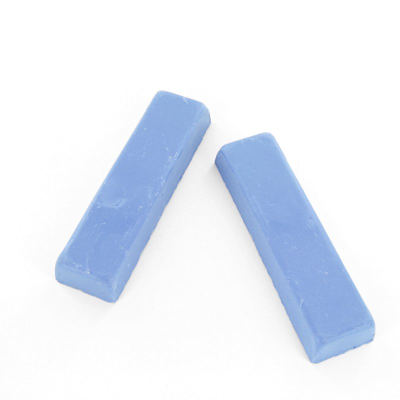 • Final high glossing stage
• For brass, copper, aluminium
• Also for stainless steel, steel
• Great for ferrous hard metals
• For use with soft/loose-fold buffs
Policraft Blue Twin Pack Bars (125g)
Final high glossing stage on brass, copper, aluminium (non-ferrous) and stainless steel, steel, iron and other hard metals.

Polishing Compounds for DIY & Heavy Duty Use
The Policraft range of polishing compounds features 8 specific varieties for a wide range of uses. Each pack of 2 bars is clearly marked to help in the otherwise difficult choice of the right polish for the job. All are ideal for DIY and professional use.

Policraft
The simple way to produce a professional high-quality finish on most materials. Buffing is one of the best ways to restore the original appearance to many varied materials. The techniques used extensively by industry to bring products to a professional finish are often closely guarded secrets. Now anyone can master these processes and end up with professional result using the Poli Craft range of products.
Product Code: PC1105
Product Name: Policraft Blue Twin Pack Bars (125g)
Brand: Policraft

Barcode: 5060030665773
Weight: 125 grams
Dimensions: 200mm x 90mm x 35mm

Shipping Weight: 140 grams
Shipping Dimensions: 200mm x 90mm x 35mm