Modelcraft Saw Blade for #5 Craft Knife (32mm (1.25'') 30tpi)
Modelcraft Saw Blade for #5 Craft Knife (32mm (1.25'') 30tpi)
SKU:
PKN1360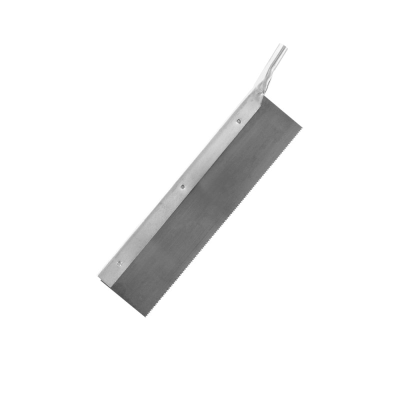 • Perfect blade for sawing smaller work pieces
• Designed to allow detailed cuts in wood or plastics
• Firm enough to stand up to light pressure
Modelcraft Saw Blade for #5 Craft Knife (32mm (1.25'') 30tpi)
The Modelcraft saw blades can be fitted to #5 handle PKN3305 and will cut rigid plastic and wood with a small cross-section. The plastic handled craft knife is 115mm/4.5" long with non-roll handle.

# 134 Saw Blade PKN1340
• Length: 125mm/5"
• Depth: 19mm (3/4")
• 42 tpi

# 135 Saw Blade PKN1350
• Length: 124mm/5"
• Depth: 25mm (1")
• 42 tpi

# 136 Saw Blade PKN1360
• Length: 125mm/5"
• Depth: 32mm (1.25")
• 30 tpi

# 138 Saw Blade PKN1380
• Length: 125mm/5"
• Depth: 50mm (2")
• 16 tpi

#139 Saw Blade PKN1390
• Length: 125mm/5"
• Depth: 32mm (2")
• 54 tpi

The SHESTO Modelcraft
The SHESTO Modelcraft Collection is a comprehensive range of useful, often hard to find precision hand tools and accessories essential for any toolbox. The range of Model Craft tools covers many applications where detail, precision and close up control are needed, such as: model making, general hobby & craft, electronics & light engineering, renovation & restoration, jewellery making, as well as smaller DIY and household repairs.

Not to be sold to persons under 18 years of age (18+). Keep blade out of reach of children and animals to avoid injury.
Product Code: PKN1360
Product Name: Modelcraft Saw Blade for #5 Craft Knife (32mm (1.25'') 30tpi)
Brand: Modelcraft

Barcode: 5060030662963
Weight: 26 grams
Dimensions: 155mm x 35mm x 5mm

Shipping Weight: 48 grams
Shipping Dimensions: 230mm x 70mm x 16mm