Modelcraft 15pc Syringe & Applicator Set
Modelcraft 15pc Syringe & Applicator Set
SKU:
POL1015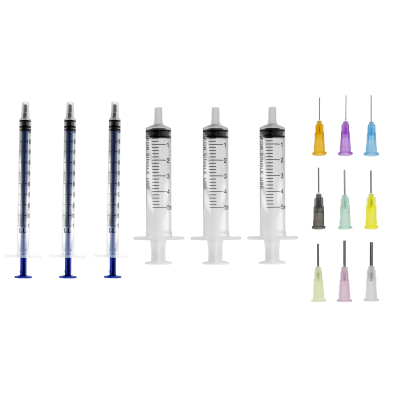 • 3x 5ml Syringes
• 3x 1ml Syringes
• 9x Applicator Tips (16 – 25 gauge)
• General purpose syringes
• Ideal for liquid application in hard to reach areas
• Multitude of uses

Modelcraft 15pc Syringe & Applicator Set
This set is designed for pin point application of fluids, paints, glues, solvents, & greases (silicone free recommended). Ideal for engineering, crafts, RC & modelling.
Includes:
POL1005/3 5ml Syringes x3
POL1001/3 1ml Syringes x3
POL1009 9x Applicator Tips
Applicator Tips:
Fast flow:
16G (1.29mm) Clear
18G (1.02mm) Pink
19G (0.91mm) Light Yellow
20G (0.81mm) Yellow
21G (0.71mm) Light Green
22G (0.64mm) Black
Slow flow:
23G (0.58mm) Light Blue
24G (0.51mm) Purple
25G (0.45mm) Amber
Syringes & Dropper
The Modelcraft Collection includes a selection of syringes, with different shapes and sizes, designed for accurate dispensing of liquids, glues and greases. Ideally suited to file service use, they store easily in the toolkit. The range includes the following syringes: 12ml curved nozzle syringe for a multitude of uses;5ml syringes ideal for the application of larger quantities; 1ml syringe for small liquid quantities and the set of 4 dropper bottles.

The SHESTO Modelcraft Collection
The SHESTO Modelcraft collection is a comprehensive range of useful, often hard to find precision hand tools and accessories essential for any toolbox. The range of Modelcraft tools covers many applications where detail, precision and close up control are needed, such as: model making, general hobby & craft, electronics & light engineering, renovation & restoration, jewellery making, as well as smaller DIY and household repairs.
Product Code: POL1015
Product Name: Modelcraft 15pc Syringe & Applicator Set
Brand: Modelcraft