Modelcraft Tweezernose Pliers
Modelcraft Tweezernose Pliers
SKU:
PXU0450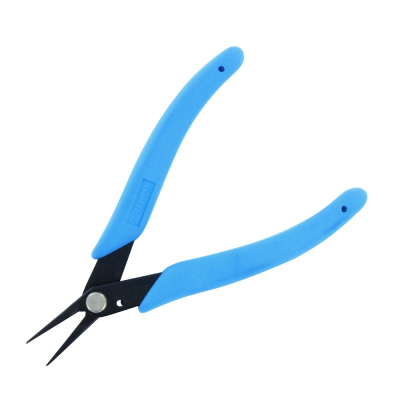 • Ultimate smooth jaw needle nose pliers
• To handle the most delicate parts
• To form and bend wire
• Light-Touch return spring speeds up work
Modelcraft - Xuron Tweezernose Pliers
The ultimate smooth jaw needle nose pliers are very fine and precise and have a 'tweezer' like shape to handle the most delicate parts and at the same time is strong enough to form and bend wire. As the jaws are smooth they will not mark or damage your wire

Pliers & Cutters
Xuron have supplied their fine range of pliers and cutters to the civilian and military electronics and aerospace industries since 1970. Now available to the hobbyist, crafter and engineer we are confident that you will be amazed by their precision and quality. Professional quality tools ideal for track cutting, cable cutting & wire stripping etc.

The SHESTO Modelcraft Collection
The SHESTO Modelcraft collection is a comprehensive range of useful, often hard to find precision hand tools and accessories essential for any toolbox. The range of Modelcraft tools covers many applications where detail, precision and close up control are needed, such as: model making, general hobby & craft, electronics & light engineering, renovation & restoration, jewellery making, as well as smaller DIY and household repairs.
Product Code: PXU0450
Product Name: Tweezernose Pliers
Brand: Modelcraft

Barcode: 5060030662680
Weight: 84 grams
Dimensions: 140mm x 105mm x 15mm

Shipping Weight: 118grams
Shipping Dimensions: 235mm x 120mm x 15mm