Rotacraft RC7000 Drill Stand and Rotation Holder
Rotacraft RC7000 Drill Stand and Rotation Holder
SKU:
RC7000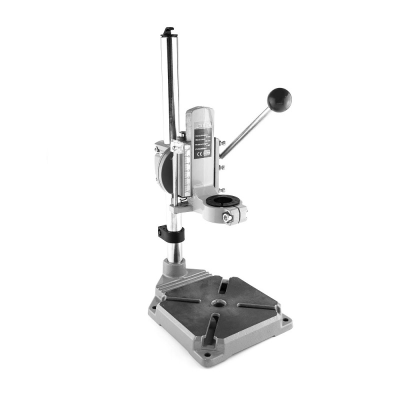 • Can be used as a vertical drill stand
• As a drill holder when grinding, polishing or sanding
• The versatile drill holder can be adjusted up or down and can rotate 90° to suit the task at hand
• Suitable for use with Rotacraft RC18EUK and RC200X Rotacraft rotary
• Standard drills with a neck diameter of 43mm
• Cast iron base with bench fixing holes and slots for use with vice (not included)
Rotacraft RC7000 Drill Stand and Rotation Holder
For precise drilling work in wood, plastic, metal and PCBs.
Technical Specifications

• Column length: 400mm; Diameter: 25mm
• Maximum drilling depth: 60mm
• Base size: 160mm x 160mm
• Rotating Drill holder: 90 degrees
Rotacraft

Rotacraft offers an excellent range of precision tool kits – 12 volt, 230 volt and Cordless, suitable for beginner and the professional user. The tools are supported by a wide range of accessories and attachments. Ideal for modelling, electronics, general DIY, craft work, antique repair & restoration, engraving, jewellery making plus a variety of other precision tasks.
Product Code: RC7000
Product Name: Rotacraft RC7000 Drill Stand and Rotation Holder
Brand: Rotacraft
Barcode: 060252020169