Shesto 10L Cavitek Ultrasonic Tank 40KHZ
Shesto 10L Cavitek Ultrasonic Tank 40KHZ
SKU:
UT8101/EUK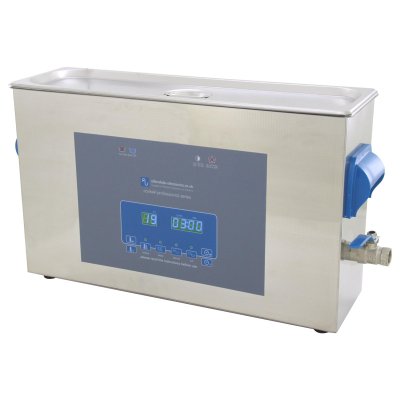 • Removes dirt, grease, corrosion
• For cleaning PCB & Mechanical Parts
• 4 different cleaning modes
• Goes up to 80 degrees on dial
• When the liquid is sitting still it can hit up to 85 degrees
• General temperature is 40 degrees
• Enhanced cleaning is 40 – 60 degrees
• Includes plastic lid

Shesto 10L Cavitek Ultrasonic Tank 40KHZ

10 litre 40kHz digital Cavitek ultrasonic cleaner with thermostatically heated bath, long and narrow tank for those slimmer items such as surgical and medical instruments.
Power supply: 220V/AC 50Hz. 200 Watts Ultrasonic power 40kHz.

All Shesto Tanks include both UK & EU plugs.
Four Different Cleaning Modes

Degas mode - Removes air after solution change, providing maximum cleaning effectiveness

Delicate mode - Runs at half power providing a less aggressive cleaning action for fragile items

Full-power mode - Powerful deep clean that will cleanse heavily contaminated items

Temperature and Timing mode - Allows the user to set both the fluid temperature and duration of the cleaning cycle


Full Repair Service

We offer a full repair service both inside and outside of the 1-year return to base warranty period. Our team of Electronic Engineers have many years' experience in Ultrasonic cleaner systems, capable of repairing units to component level.
Ultrasonic Cleaning

Ultrasonic Cleaning is a unique phenomenon. Millions of tiny bubbles are created when ultrasonic sound is passed through the liquid. It is these tiny bubbles combined with a huge pressure that creates incredible cleaning results. This method of cleaning is particularly suited to cleaning otherwise difficult items such as instruments, tools, clock parts, airbrushes, printer heads, motors, burner jets - the list is endless.

Product Code: UT8101/EUK
Product Name: Shesto 10L Cavitek Ultrasonic Tank 40KHZ
Brand: Shesto